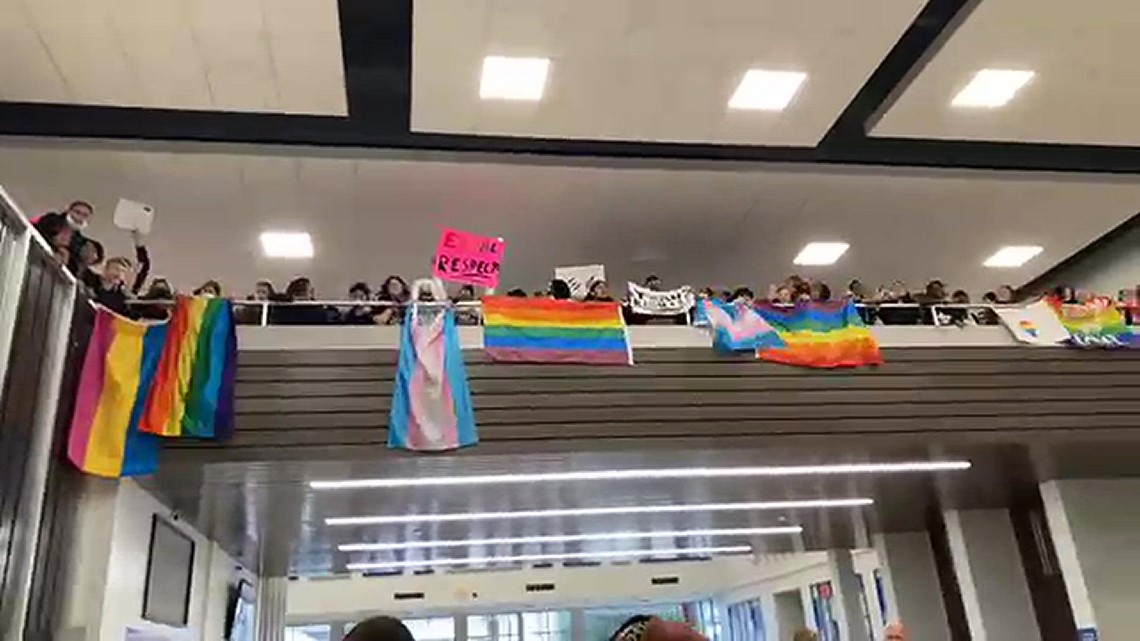 Videos and photos of students protesting inside and outside the school are going viral on social media.
TEMPLE, Texas — Dozens of Temple High School students protested Wednesday morning to help transgender students who were denied privileges in women's bathrooms and locker rooms.
"I just wanted to help make a difference. Do whatever you can," said Temple ISD Junior Akirashahan.
"We said we had to say we would not be silent," said Temple ISD student Stevie Williams.
Videos and pictures were shared on social media in which students are protesting inside and outside the school.
"There were additional security and Temple PDs on campus to ensure the safety of our staff and students," said Temple Independent School District spokeswoman Christine Parks.
Parks said the protest took place in Phase III and maintained the peace.
"Students have the right to peaceful protest," Parks said. "But if such activities result in student behavior, such as skipping classes or leaving class without permission, the consequences of these violations of the Student Code of Conduct are set forth in the Code of Conduct."
According to Temple ISD, all activities on the campus are continuing as usual.
The protests supported a 16-year-old transgender girl named Kendall Tinoco, who posted on Instagram on September 22 and teachers told her she could not use the female changing room. The post quickly went viral and garnered over 4,000 likes.
"I fought for equal treatment in my place, and people know it," Tinoko said.
"I had the support of many teachers. I am in the third year of high school. I was able to use the toilet and changing room without any problems until this year," says Tinoco.
Parks told Six News that high school managers met with students and parents that week to review the district's transgender student registration guidelines.
The guidelines include three basic points.
Students must be identified by a "statutory name" on the student's birth certificate or other document certifying the student's identity or by a court order to change the student's name.
Students should wear clothes according to the dress code.
To allow privacy for all students, "gender-neutral" toilets, locker rooms or changing rooms, and/or night facilities (i.e., faculty unisex toilets or nurse offices) will be available for transgender students. Growth.
Coach Bobby Ott said he was in high school during the protest.
"I was amazed at the number of people there to support him. I was really proud," said Temple ISD alumnus Jamesia Johnson.
Tinoko said that she was grateful for the support of her classmates.
Overall, I was really proud to see everyone coming together and supporting each other. Post-Support Only Post-Support Support. it was really great. "
A student is shown protesting outside Temple High with a transgender student.
Temple HS students protest in support of LGBTQ
Source link Temple HS students stage LGBTQ support protest